Swami Vivekananda Jayanti Shayari in Hindi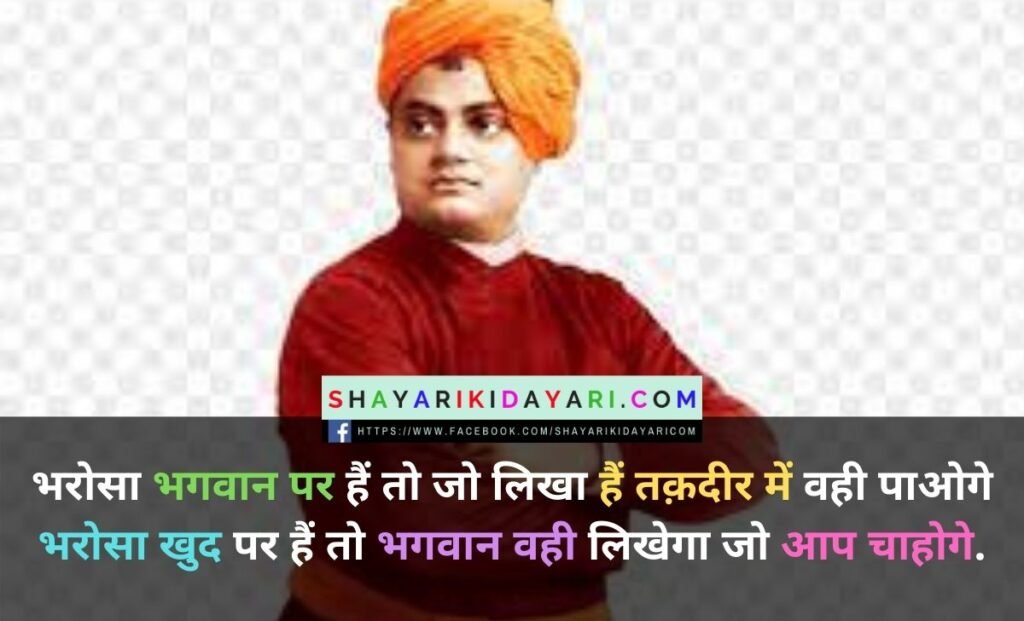 भरोसा भगवान पर हैं तो जो लिखा हैं
तक़दीर में वही पाओगे भरोसा खुद पर हैं
तो भगवान वही लिखेगा जो आप चाहोगे.
Bharosa bhagwan par ha to jo
likha ha takdir me wahi paoge
bharosa khud par hai to bhagwan
wahi likhega jo aap chahoge.
Swami Vivekananda Jayanti Shayari
स्वामी विवेकानंद को अपने हृदय में बसाएं
आपको राष्ट्रीय युवा दिवस की शुभकामनाएं.
Swami vivekananda ko apne
hrday me basyen apko rasthry
yuwa diwas ki shubhkamnaye.
Swami Vivekananda Jayanti
एक अच्छे चरित्र का निर्माण हजारों
ठोकरें खाने के बाद ही होता है.
Ek achhe charitr ka nirmand
hazaron thokarein khane ke
bad hi hota hai.
स्वामी विवेकानंद जयंती शायरी हिंदी में
संभव की सीमा जानने का केवल एक ही
तरीका है असंभव से भी आगे निकल जाना.
Sambhaw ki seema janne ka
kewal ek hi tarika hai asambhaw
se bhi aage nikal jana.
स्वामी विवेकानंद जयंती शायरी
स्वामी विवेकानंद के विचार जादू कर देते है,
युवाओ के हृदय को प्रेरणा और उत्साह से
भर देते है.
swami vivekananda ke vichar
jadu kar dete ha yuwaon ke hrday
ko prernda aur utsah se bhar dete
hai.
स्वामी विवेकानंद जयंती
एक समय में काम करो और ऐसा करते
समय अपनी पूरी आत्मा उसमें डाल दो
और बाकी समय सब कुछ भूल जाओ.
ek samay me kam karo aur esa
karte samay apni puri aatma usme
dal do aur baki samay sab kuch
bhul jao.