Agni Nakshatram Shayari in Hindi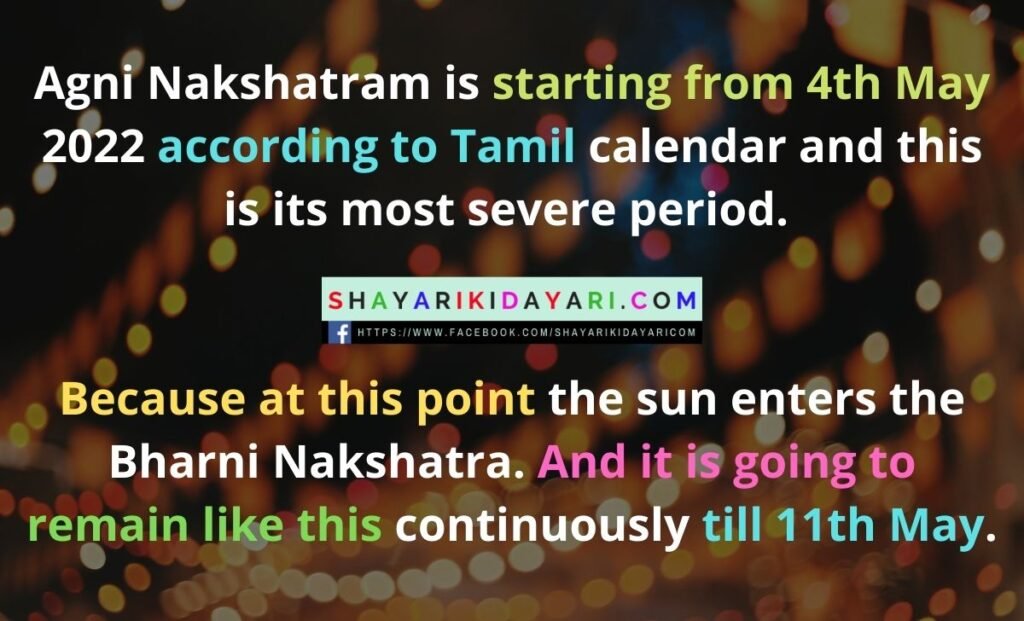 Agni Nakshatram is starting from 4th May 2023 according to Tamil calendar and this is its most severe period. Because at this point the sun enters the Bharni Nakshatra. And it is going to remain like this continuously till 11th May.
Agni Nakshatram Shayari
After this, from 11th May 2023, the sun will enter the Rohini constellation. Due to which the light phase of Agni Natchathiram will start from 11th May 2023. This phase will run till 28th May 2023 and it will end on 29th May 2023.
Agni Nakshatram
The duration of Agni Natchathiram lasts for a total of 21 days, this year it is going to run from 4th to 29th according to the calendar of Tamil in 2023. It is believed that doing any work during this period is not auspicious.
अग्नि नक्षत्रम शायरी हिंदी में
In this period, diseases come more, journey is unsuccessful etc. It is believed by some people that due to excessive heat in the old times, every work was avoided and gradually this belief became.